SDCC 2013 Wrap Up
Written by: Riri (
@lillyums
)
If I could sum up SDCC 2013 this year, I say: lines...LINES...LINES!!!!!!!! We should just rename SDCC as Line Con. Comic Line Con. Long Line Con. You get the point.

It's no joke that this year's lines have gotten much more crazier and hectic than our first time attending 3 years ago. I recall that Saturday morning 2011, we walked right in at 10:00AM with no lines, Hall H half full. Saturday morning 2013 (or every morning) had campers lined up from 6pm the night before. >.< Aside from this crazy long line, SDCC this year was amazing and great in many ways since we did things a little bit differently this year: this was the first year we went to Preview Night, and the first year we attended a couple offsite events.

In addition, I managed to snag an adjacent hotel, the Marriott Marquis & Marina! This was our first downtown hotel and it was very convenient not having to wait for a bus and lose so sleep and line time!
Day 0 PREVIEW NIGHT, Wednesday
Our day in a nutshell:
Shop
Shop
SHOP!
Stand in lines
Meet Yaya-han!
Ran into Cosplay in America!
Meet Alodia Gosengfiao!
What is Preview night? Basically it's a 3 hour window of "opportunity" for attendees who purchased preview night to "preview" the show floor, buy merchandise and exclusives "before anyone else" does, and attend special panels specifically for this night. Lots of quotes in the previous sentence - point is, it is still very crowded and still need to get to your desired location as fast as you can to get that ticket or merchandise before a line gets too long that it gets cut.

But, that's not even where the fun starts. First, badge pick up. 4 day badges with preview night are picked up at the Sails Pavilion in the convention center; 4 day badges without preview night get picked up at the Town & Country Resort in Mission Valley. Getting our badges picked up was easy peasy. If you follow certain individuals on twitter or just take a good look around you in the city, you'll find out when badge pick up actually opens. It opened around 1pm that day, and we got to pick it up close to 2pm. The process was very easy and quick, and after picking up our badges, we needed to get into line for the Exhibitor's Hall.
So we did. And it was our very first line...(not counting the short line we were in for Sushi Deli for lunch). Hours go by, and the Sails Pavilion is getting more and more crowded. By around 5:30pm, there was just no open place to walk. The exhibitor's hall opened at 6pm, and we exited the Sails Pavilion in a very orderly fashion.
We entered the exhibitor's hall and it was time to race (but walk...) to the Capcom booth to grab the Mecha Zangief exclusive. I was going to say that the Zangief was the first item I purchased - but I was wrong. While waiting in the Capcom line, I had time to visit Matt's Cavalcade of Comics booth to pick up their SDCC exclusive Funko glow in the dark Deadpool, and while I was viewing the Deadpool, the owner made some behind-the-curtain trade with the next booth, Conquest Comics, who had an exclusive Funko glow in the dark White Phoenix. So I snagged that too and my very first SDCC purchase were two Funkos exclusive to these booths only and only for SDCC.
And then of course we ended up getting the SDCC Capcom exclusive Mecha Zangief as well :) You can view my SDCC Haul article HERE to see what else I picked up!!
The rest of Preview Night was pretty much checking out the place, getting a feel for where everything is (IMPORTANT... so you know where to go when you are running to get in line in the morning...). I got to swing by and meet Yaya-han too! She is just an amazing seamstress and crafter and cosplayer, it was really great meeting her.
However, you don't really get to see the entire floor in three hours, there's just so much to see and it literally takes like 10-15 minutes to get from one end to the other if you walk across inside. Aside from the exhibitor's hall, there was also a 3 hour panel showing pilot episodes of Almost Human, The 100, The Originals and the Tomorrow People. We did not attend that since we much rather would be getting the merchandise before the storm. After that, we got what we wanted for the evening, had dinner at Tin Fish and I ran into Alodia Gosengfiao!
Day 1, Thursday
Our day in a nutshell:
Failed miserably at getting our exclusives anyway
Sat in for panels: Comedy Legends of TV Land, Ghost Ghirls. Workaholics, & Wilfred
swing by to say hello to Ani-Mia!
Sleep super early like old people.
OK! So Thursday was a slow day for us; the day started off with waking up early and getting into line for Hasbro. One thing they did differently this year was that instead of a clusterfock of lines everywhere, the fire marshall was like "nuh uh, make one large gigantic line for everything." So that was that. It was a line for everything - we were hanging out with people who wanted to get into Ballroom 20, Exhibitor's Hall, and Sails Pavilion. I think there was badge pick up too in there... maybe, I'm not sure. Anyway, so we were all the way outside along the docks and I was like WHAT THE HECK. It was a line to get into the Convention Center - the "Everything But Hall H" line.
Long story short - we didn't get our tickets because they were out. Didn't really buy anything else either because the lines were all capped everywhere else. I did manage to finish my purchases at Tokidoki, and then swung by to chat with Mia, aka Ani-Mia. She was cosplayed as Videl, the Great Saiyawoman! It was so amazing!
Panels at Indigo Ballroom!
Comedy Legends of TV Land
Ghost Ghirls
Workaholics
Wilfred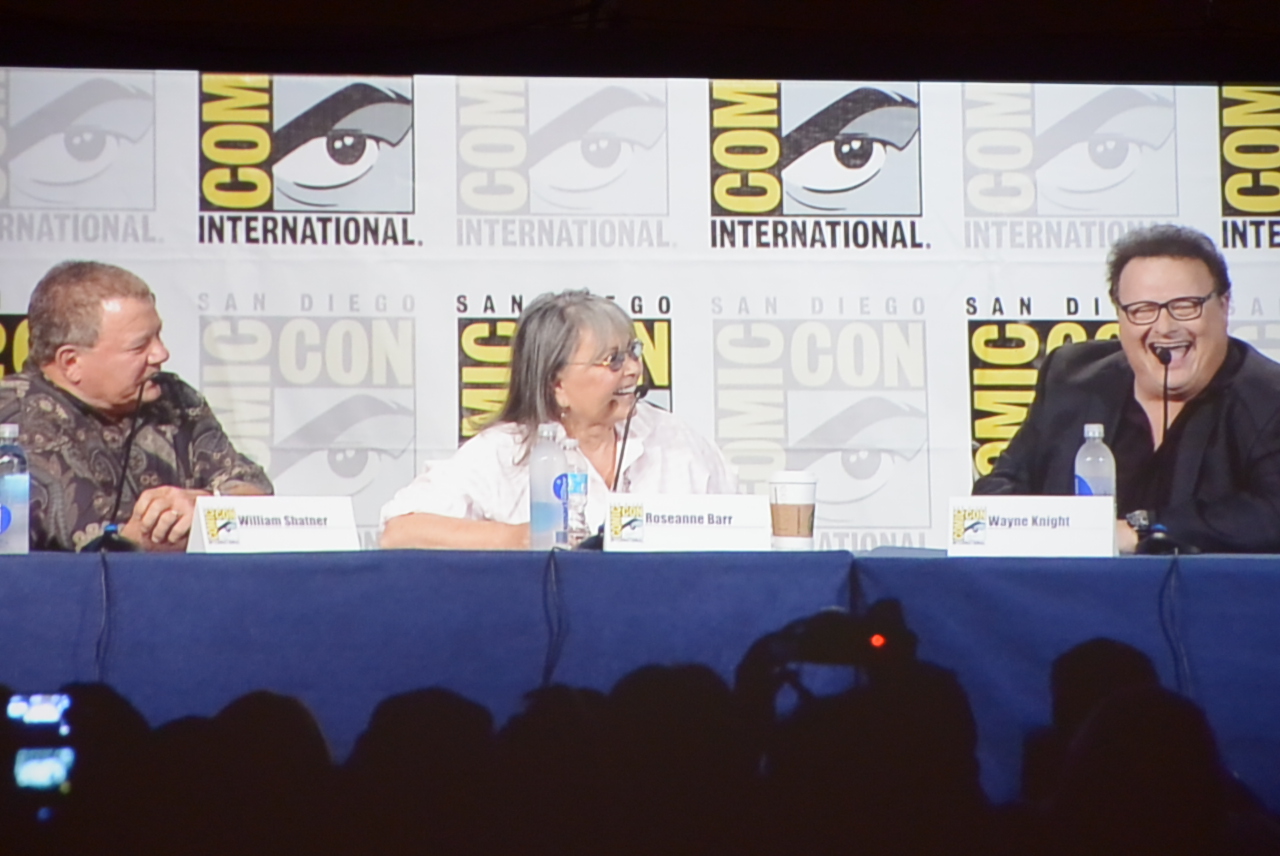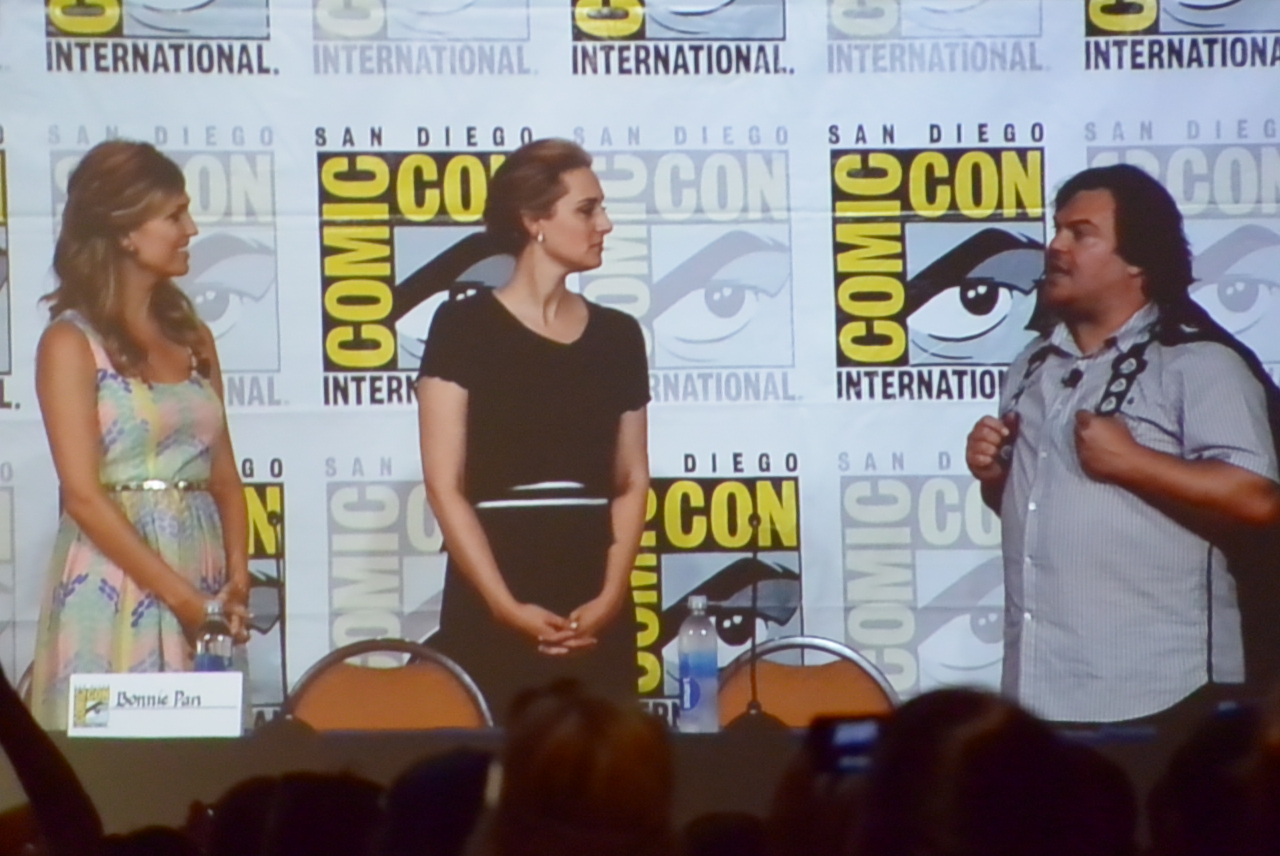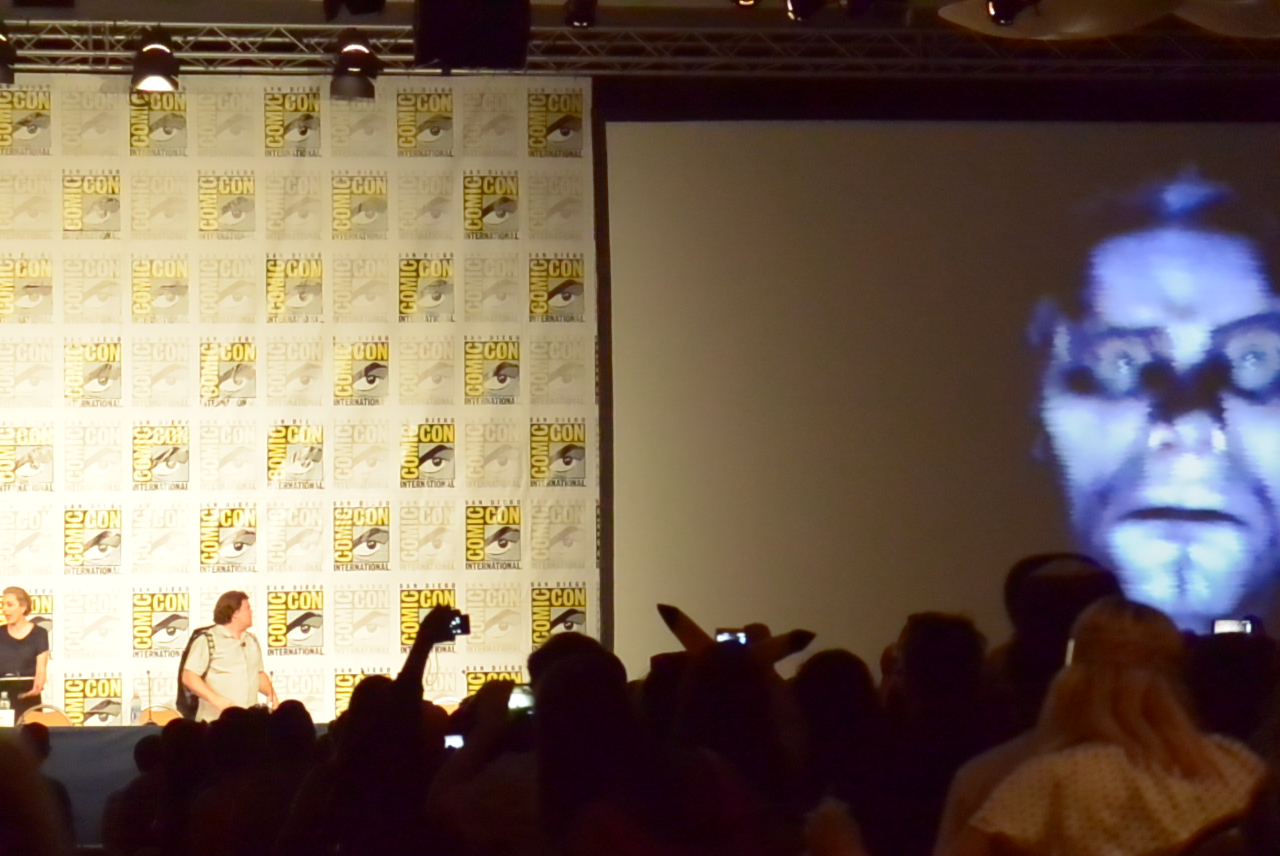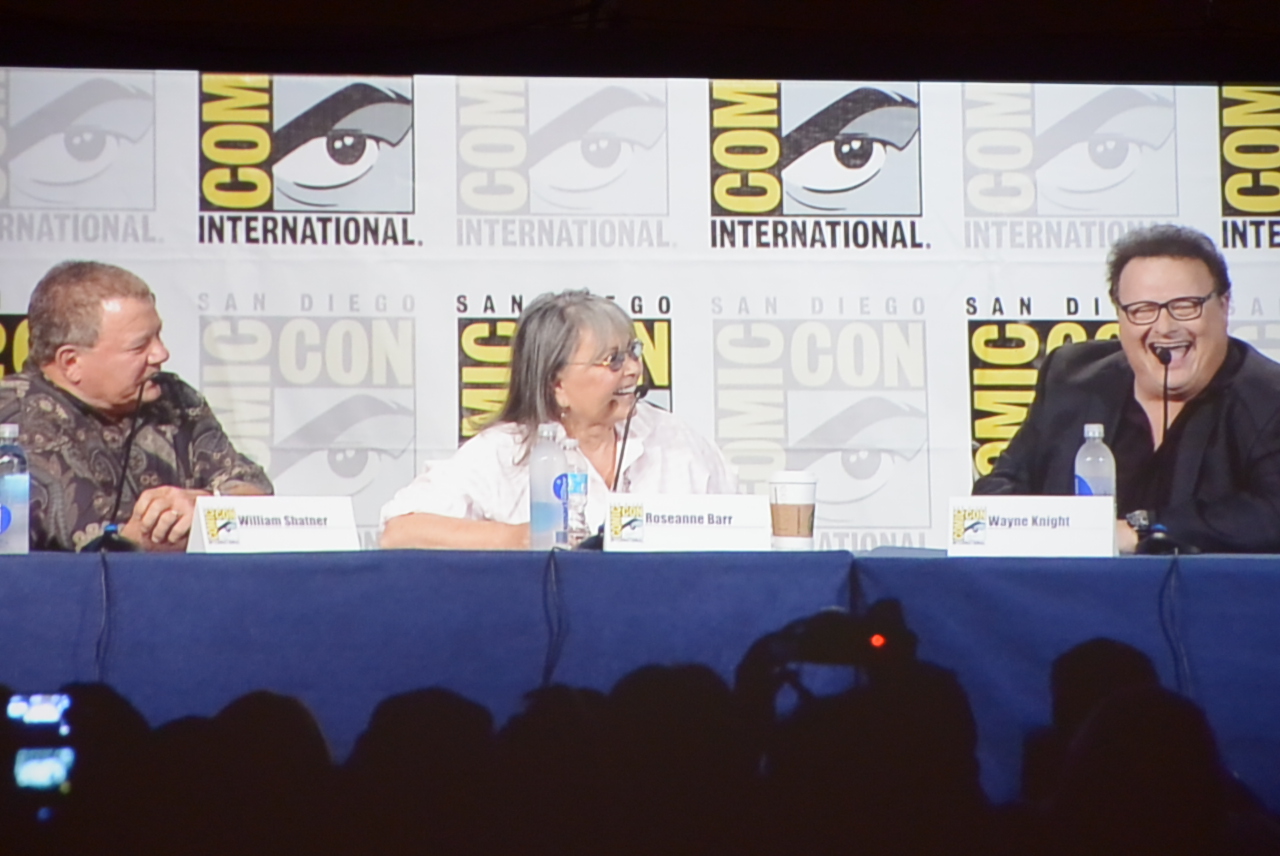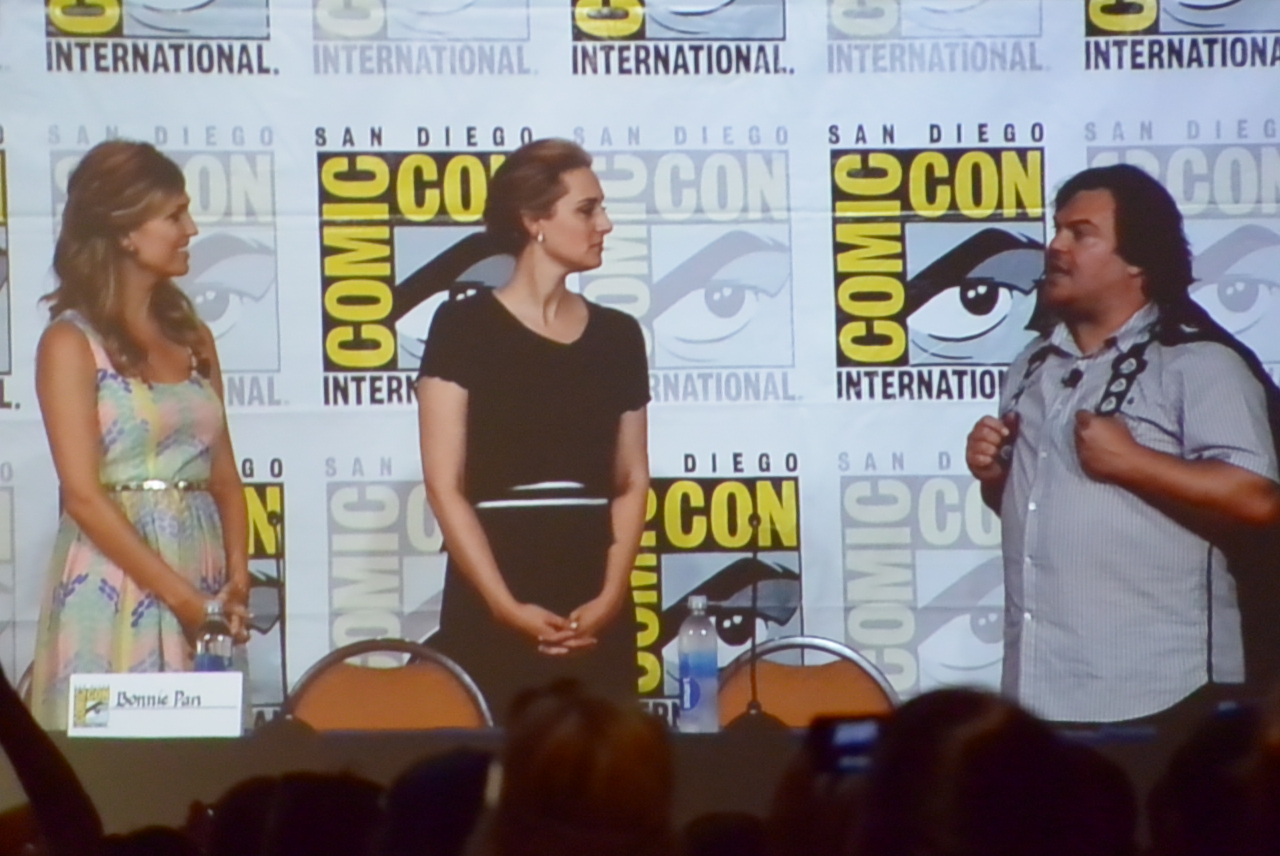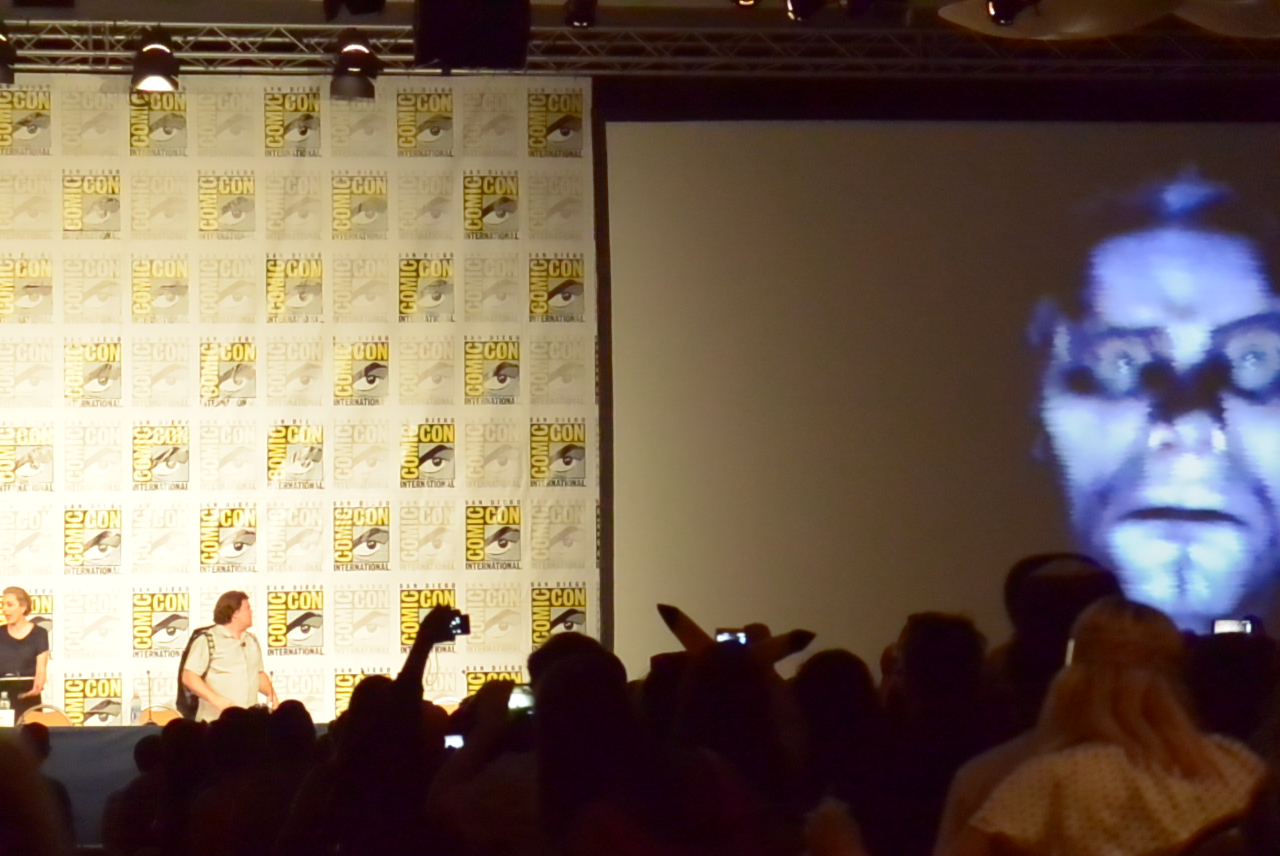 We headed over to mainly get a spot for Workaholics; seating is never a problem at Indigo Ballroom. Comedy Legends of TV Land was like a celebration of classic sitcoms with William Shatner, Roseanne Barr, and Wayne Knight. Ghost Ghirls panel introduces the webseries produced by Jack Black due to release this Fall 2013. The preview was actually hilarious, involving two best friends who are paranormal investigators and we watch how these two girls try to solve these paranormal cases - a great comedy and I would totally watch it!
Finally Workaholics came and the room was just packed! With Tom Green as moderator, he introduced Anders Holm, Adam DeVine, Blake Anderson and Kyle Newacheck and all the fans are just going nuts with cheers. The first part of the panel, I swear was just the entire cast of Workaholics bullshitting and being... well being them. That and only Kyle Newacheck would squat in his chair.
The panel continues with the cast discussing the origin of "Tight Butthole," the chances of the guys getting laid in the next season, and my personal favorite from the Q&A, what would be the next "Sneak Phrase" or their next catch phrase like "Tight Butthole"? No answer to that except that the Workaholics cast started integrating the phrase "Sneak Phrase" wherever they could in conversation just because it was funny. The panel ended with a special performance of all the guys performing a rendition of "Best Friend" which was amazing and the best panel I've seen in ages.
We watched Wilfred afterwards but only stayed to watch through the premiere episode. I wanted to stay through past Wilfred to watch the Mortal Kombat panel but I was far too tired knowing how much earlier we had to wake up the next morning for a success at Hasbro.


Day 2, Friday
Our day in a nutshell:
98% success at getting everything we wanted! HURRAY!
Amber Nash & Lucky Yates autograph signing
Failed at getting into the Archer panel
Funko Fundays Party!
While standing in line again for Hasbro, check out this Hall H line!
However, ...waking up an hour earlier got us our Hasbro ticket!
Meanwhile, we shopped, picked up everything we wanted, and met our 2pm line appointment and also got everything we wanted there. Thereafter, we got a signing with Amber Nash and Lucky Yates, voice actors from Archer as Pam and Krieger(-san!), respectively. We picked up Factory Entertainment's SDCC exclusive, Pam's blue dolphin hand puppet and that's how we got a signing with her!
We tried to get into line for the Archer panel. This was our #1 Friday panel to make it into and...we did not make it in :( Oh hey, it's been a while since I posted a picture of a line. Here was this line.
Since we didn't get in, we grabbed some dinner and made our way to the Funko Fundays party! Let me tell you all about it, briefly.
Funko Fundays is pretty much a gigantic party held as an appreciation to Funko collectors and it is held annually on the Friday night at SDCC. Tickets are purchased beforehand, and with your ticket you get a Mystery Box of Fun, drink tickets, and raffle tickets. There was a buffet dinner I didn't seem to have been aware of (we ate before hand..). After the buffet, Brian (Owner of Funko) presents awards, raffles off items, and pretty much nobody goes home empty handed. Majority of the items given out are rare Freddy Funko exclusives (Freddy is the mascot of Funko, the first original character), other rare items, and prototypes.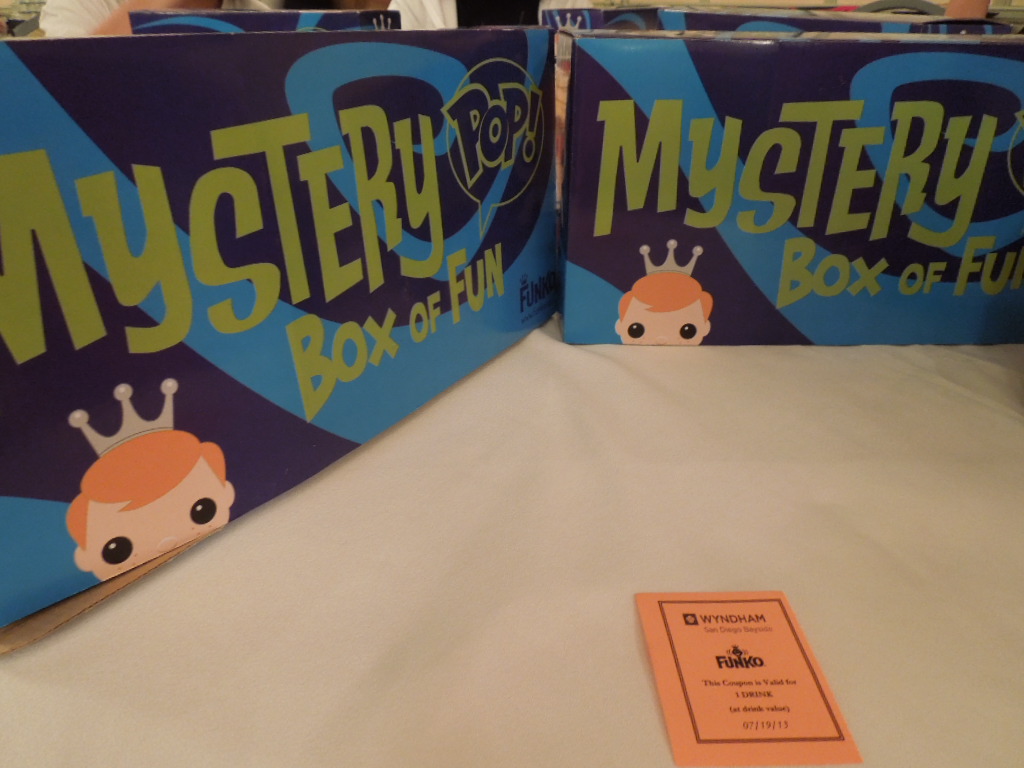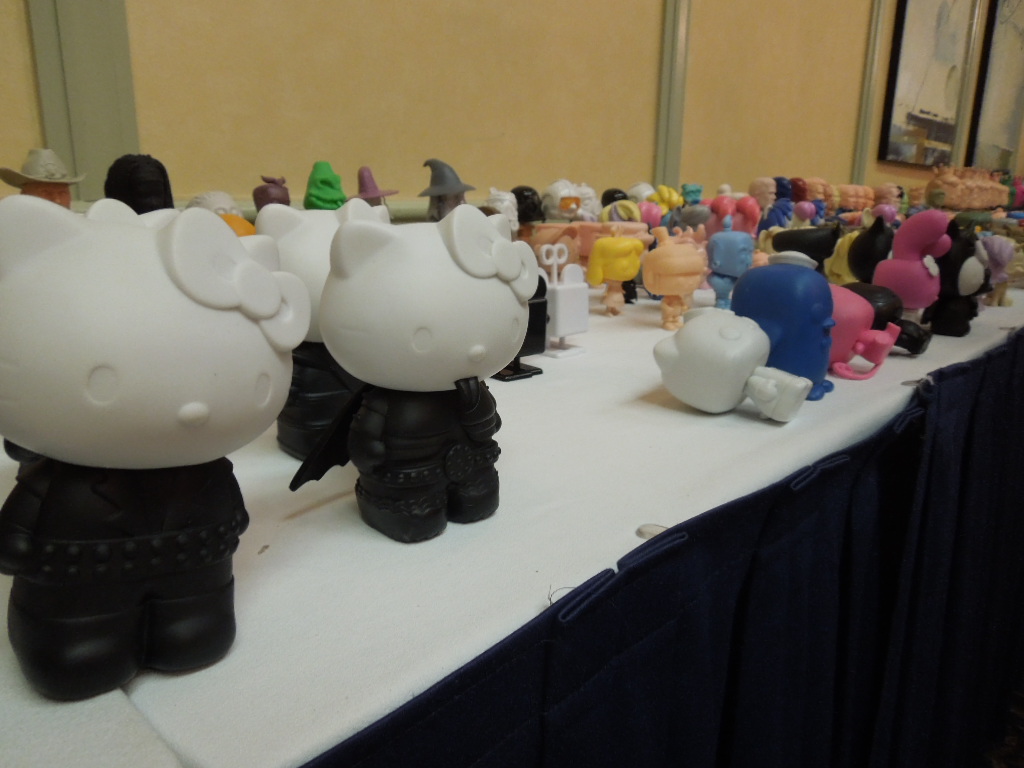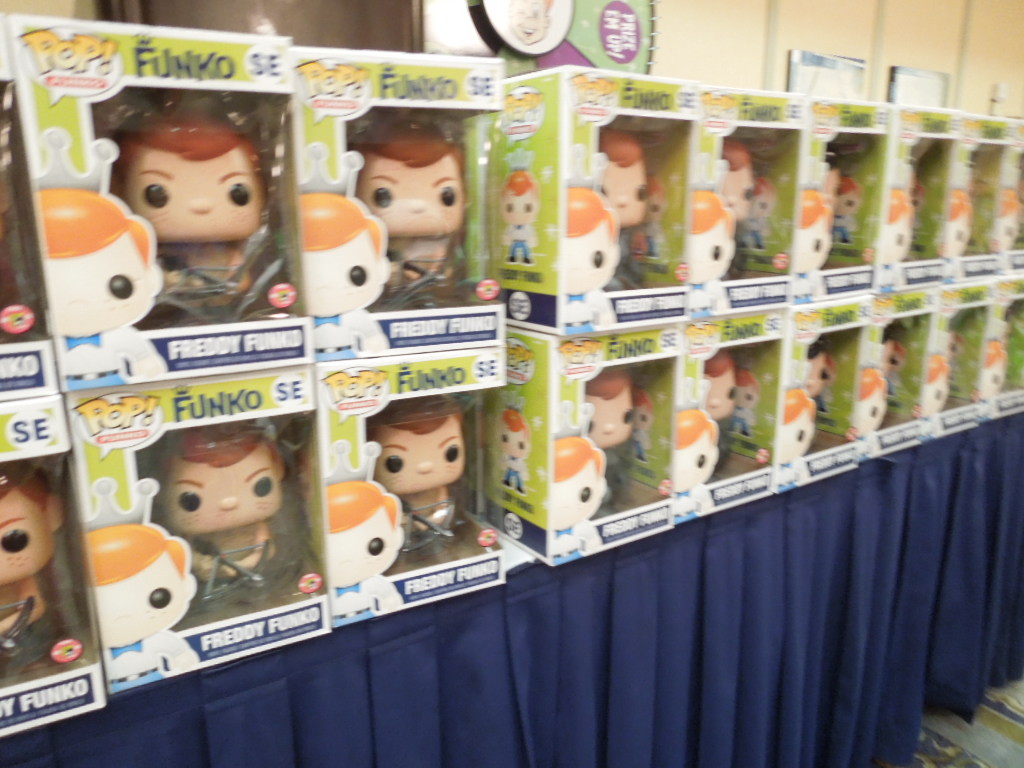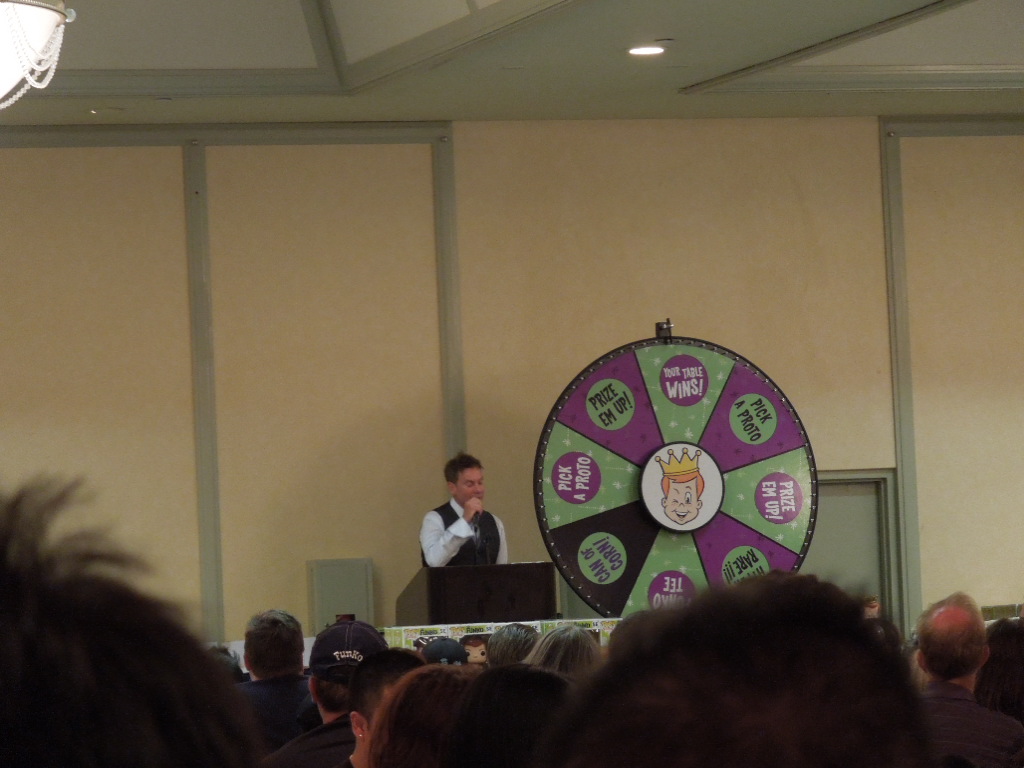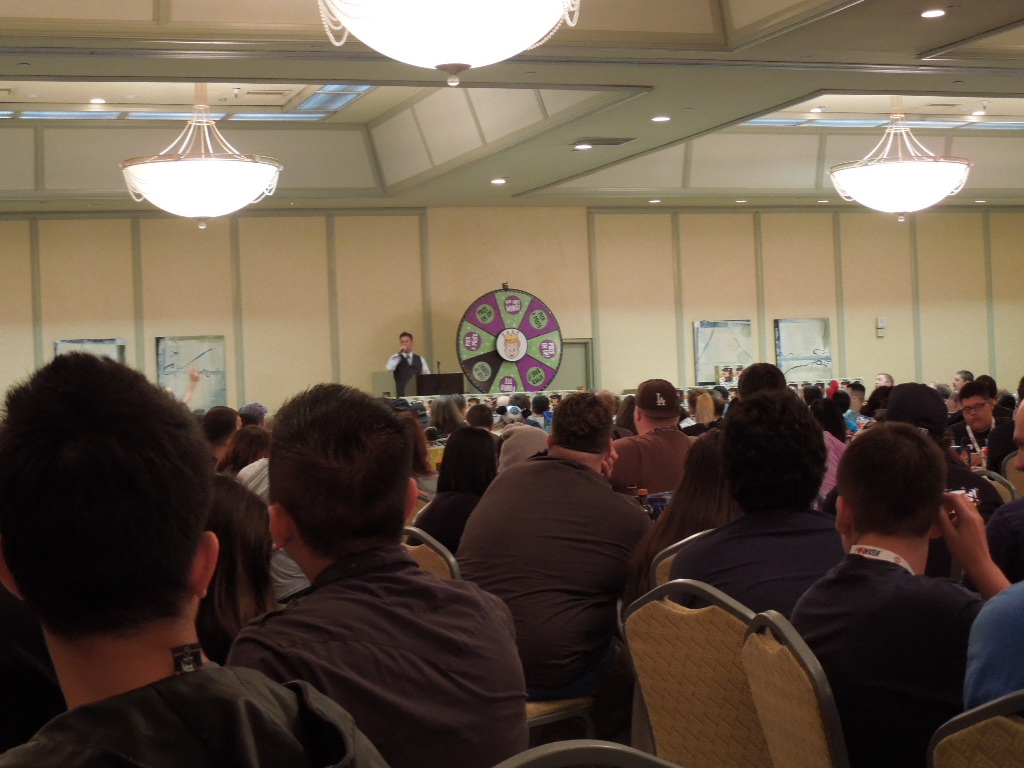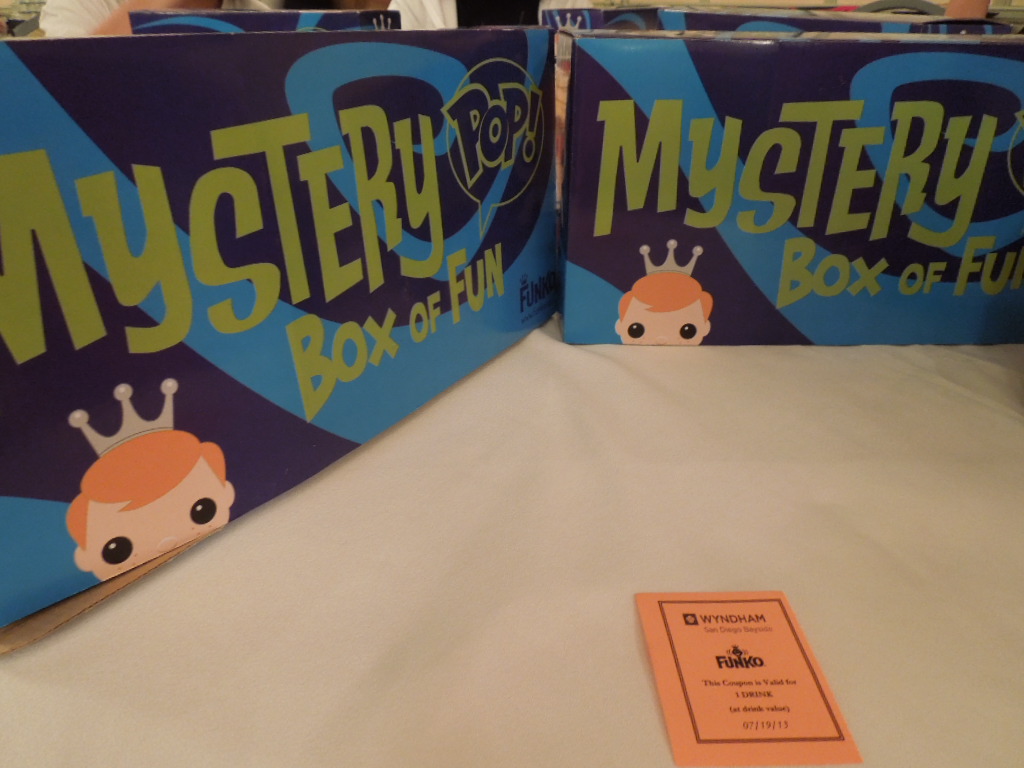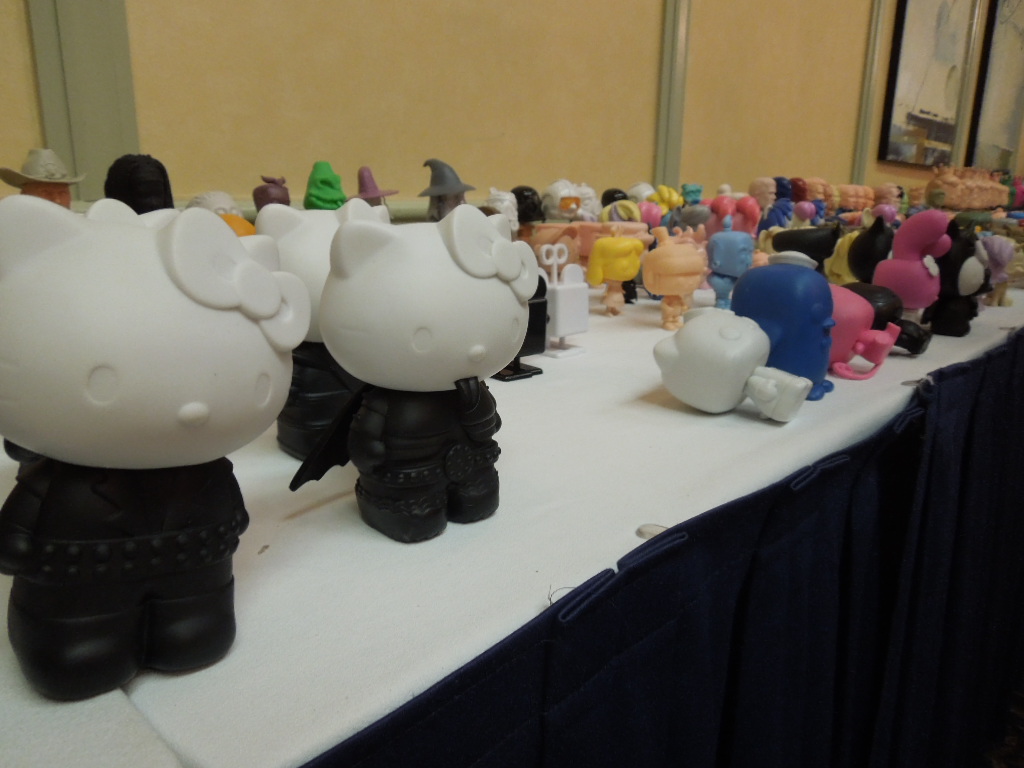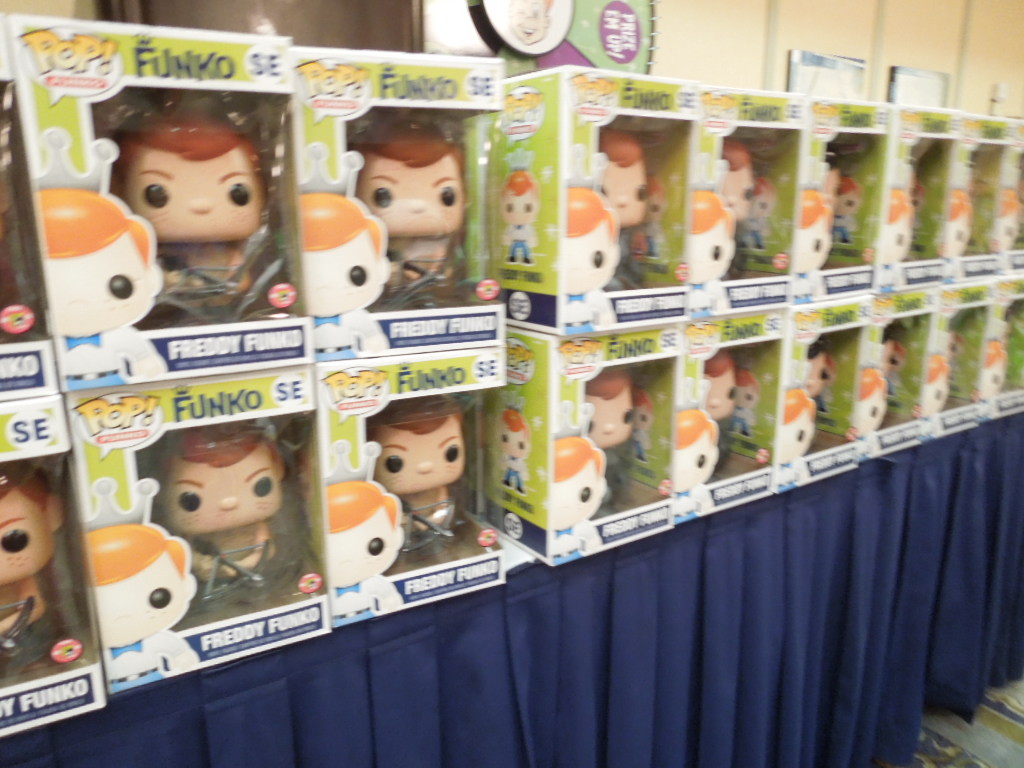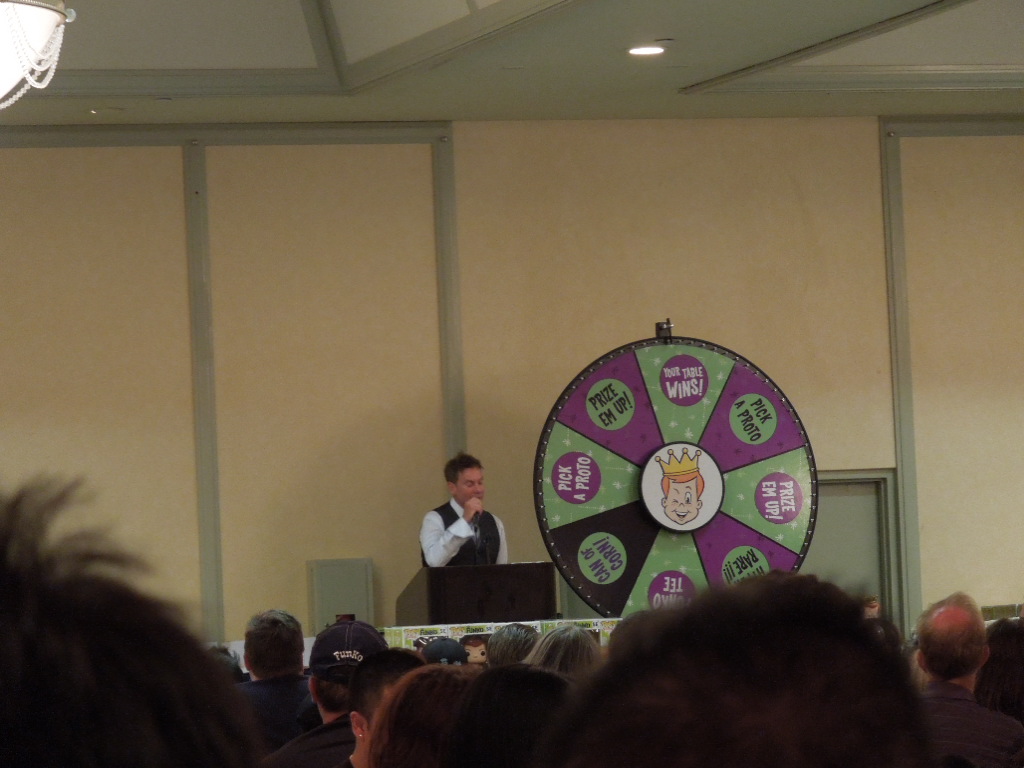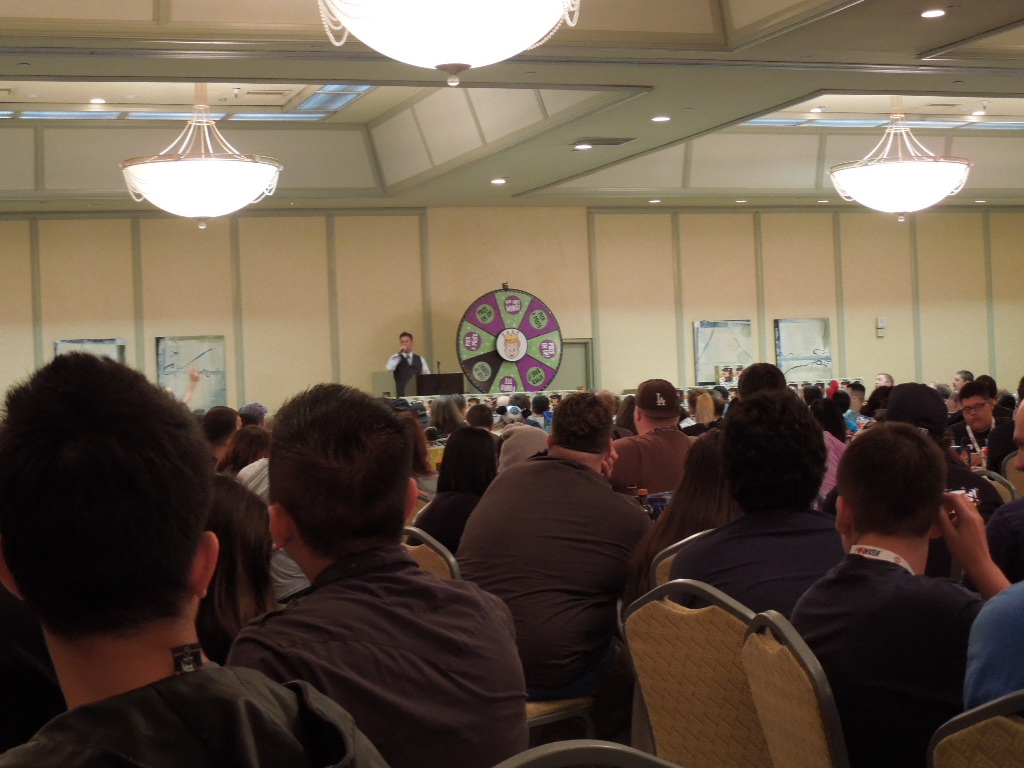 Have I mentioned how crazy excited everyone is here?! People are on their chairs cheeringa and screaming when Funkos are being raffled off! It's just nuts! At one point, there was a very small fight over a 9 inch Freddy Funko too, and it resulted in a very damaged box in the end. Overall, it was a fun night, and I would recommend this to any Funko collector.
Day 3, Saturday
Our day in a nutshell:
Futurama panel
Hall H line drama
Kevin Smith's panel
Geek & Sundry's Cosplay Prom Party!
and meeting Aubrey Plaza!
and meeting Vampy Bit Me!
Saturday is typically the biggest day of any convention. Biggest panel lineup especially at SDCC. Which meant, no chance of getting into the room unless you camped out. Which we didn't do.
We went to attend Futurama's last panel EVER! They are canceling their season (again). It was a really great panel; they started off voice acting out the first act of the series finale, called "Meanwhile." It's so great to see everyone at work, and how well they work together.
It was really funny to see Billy West "talk to himself," or voice Fry, Dr. Zoidberg, and Professor Farnsworth. The second act continued with actual animation, so I had to shut off the video at this point, or well maybe I thought I had to haha. Some others recorded the whole thing. It's so sad to see Futurama end, but they did announce there will be a Simpsons and Futurama crossover episode!
After this panel, we decided to hang out in the Hall H line. Maybe... MAYBE we'll get into the Thor/Captain America panel at 6pm right before Kevin Smith's panel. While sitting in line, it actually wasn't nearly as boring as I had anticipated.
There was actually some line drama! Some people tried to cut, or appeared to have cut in line and since you are around the same people for hours, you tend to be quite aware of your surroundings and who's behind, in front, and next to you. So a group of people called out this guy and started yelling at him, telling him to get out, calling him names, etc. One of them went to a staff member. In the end, it seems the guy and staff had worked it out, and people were not happy that they "let him go." It was quite a commotion, and it didn't help that the guy that was accused of cutting was also provoking the group on purpose to get them riled up.
This Hall H line got shorter and shorter as the day went by as a staff member came regularly to communicate news of our chances of getting into the next panel. As in, "You have no chance of getting in for this next panel, and your chances are low to get into the next; it is your choice to stay." In summary, probably about 50 people trickled in after the room reached max capacity and after the first panel at 10 am. Before Kevin Smith's panel started, the entire room pretty much emptied...we watched as thousands of people exited.
Kevin Smith's panel annually ends Saturday night with his Q&A. Midway into this panel, there was a public proposal. As in, an engagement proposal. Haha, there was already an engagement proposal made at Kevin Smith's panel in 2010 actually... and this one just seemed kind of quick, but hey she'll remember it forever ! :)
Remember when Kevin Smith was like "I'm retired, Red State is my last movie, I'm never making movies again!" well if you didn't remember that, that's what he said. Turns out he gonna make a Clerks 3... So he talked a little bit about that! Nothing that gives the plot away. He discussed this f*cked up horror script he wrote which none of us is too sure if he would get it filmed...
After this panel was over, we went to hit up Geek & Sundry's Cosplay Prom Party event over at Jolt N Joe's, which was like their "head quarters" all comic con, every day. We showed up as Amy Wong and Fry from Futurama and as we walked in, we ran into Aubrey Plaza! She loved our cosplay so much she took over the Geek & Sundry photo booth and took some photos!
She is so funny. I have to admit we didn't recognize her at first so I felt kinda bad :( The rest of the party was AMAZING. The lovely Vampy was walking around judging the cosplay and this way awesome Optimus Prime got first place and the Zelda/Link couple got second. They did an amazing job! Check out the slideshow below for the rest of the photos of the night!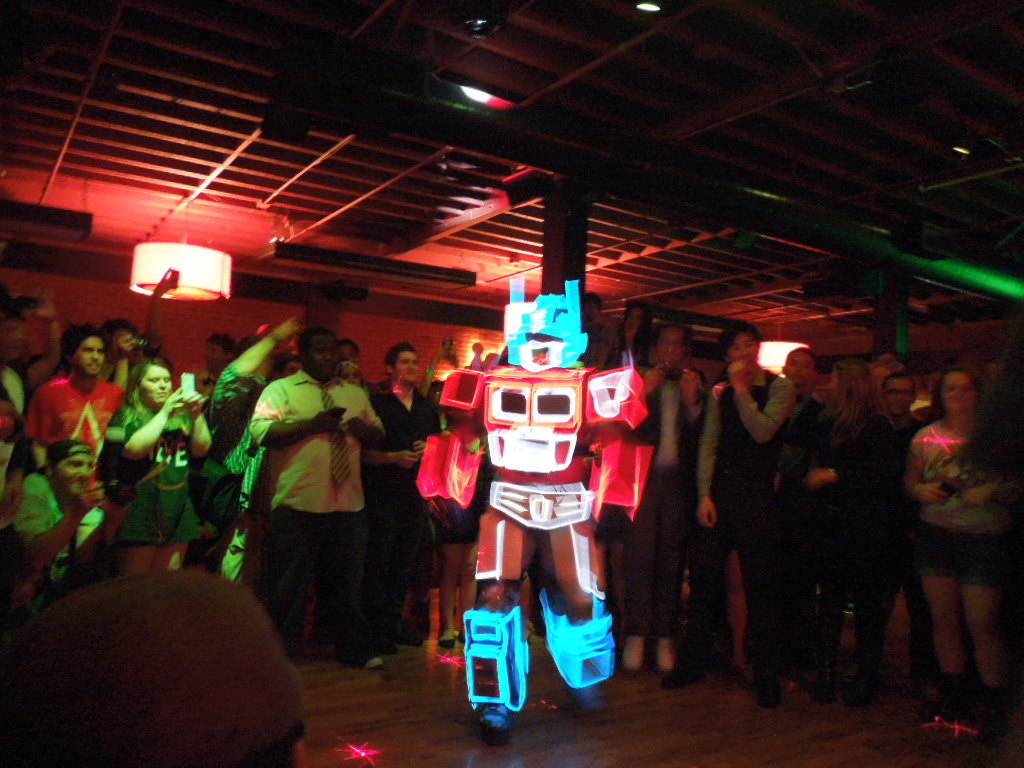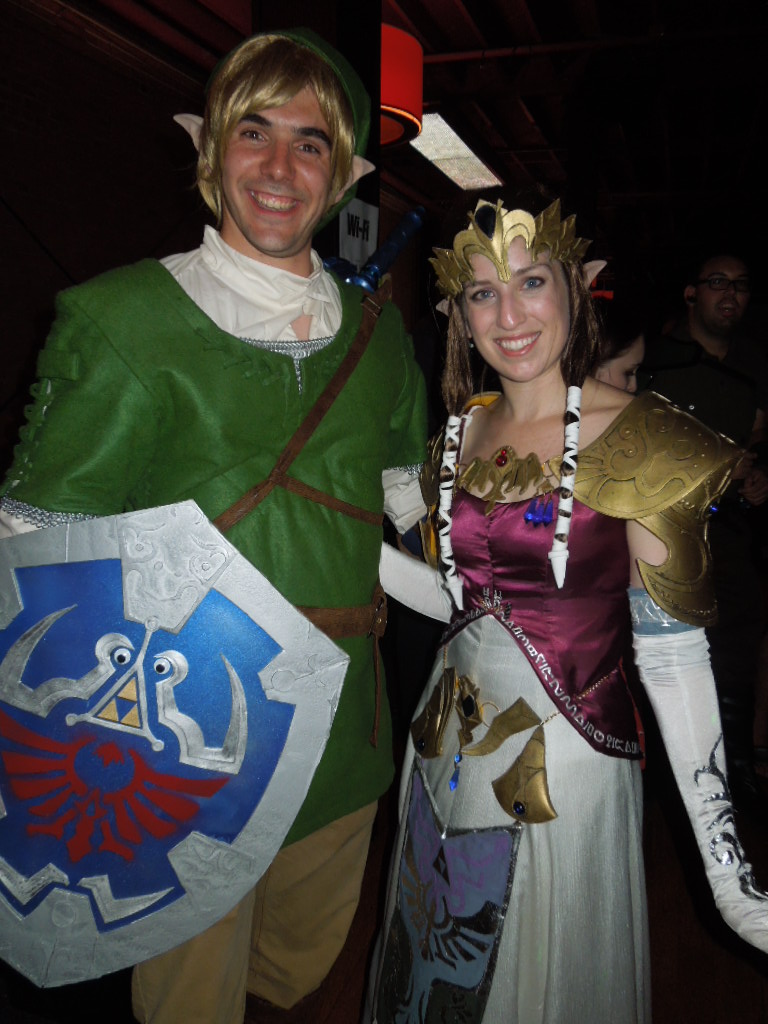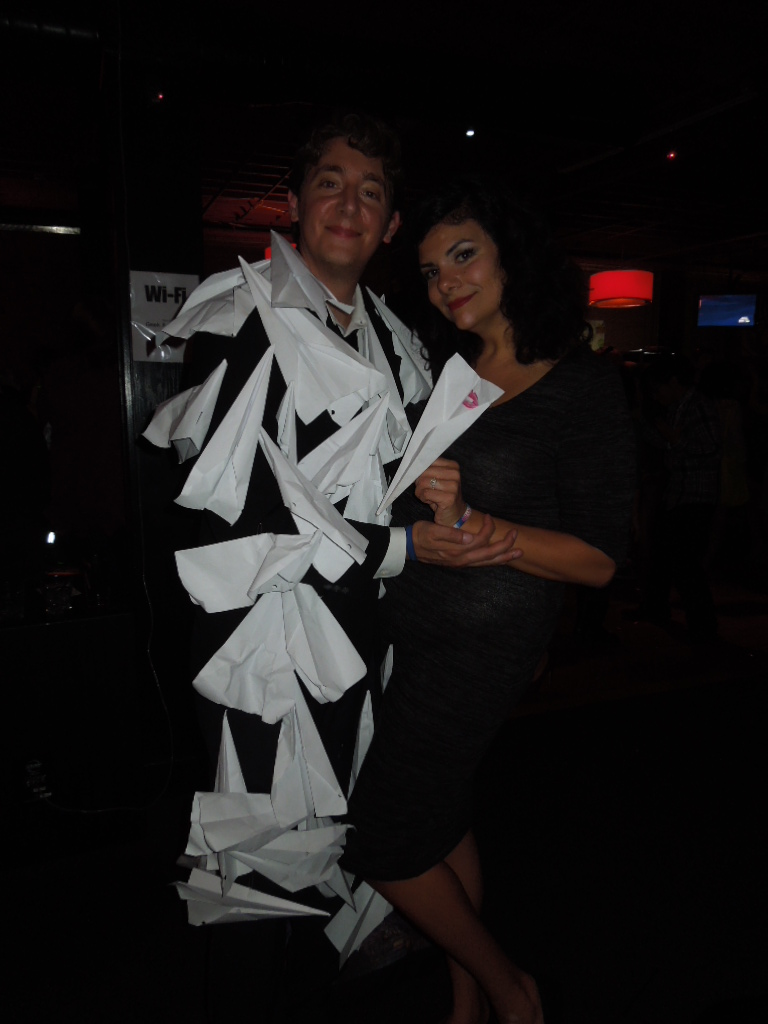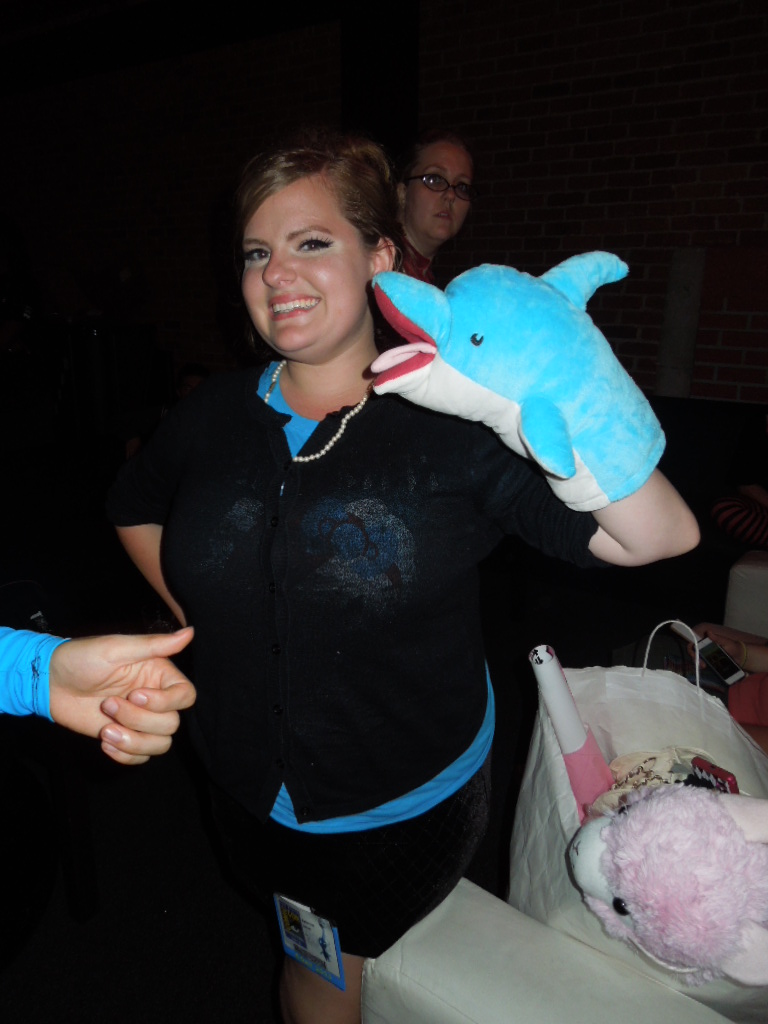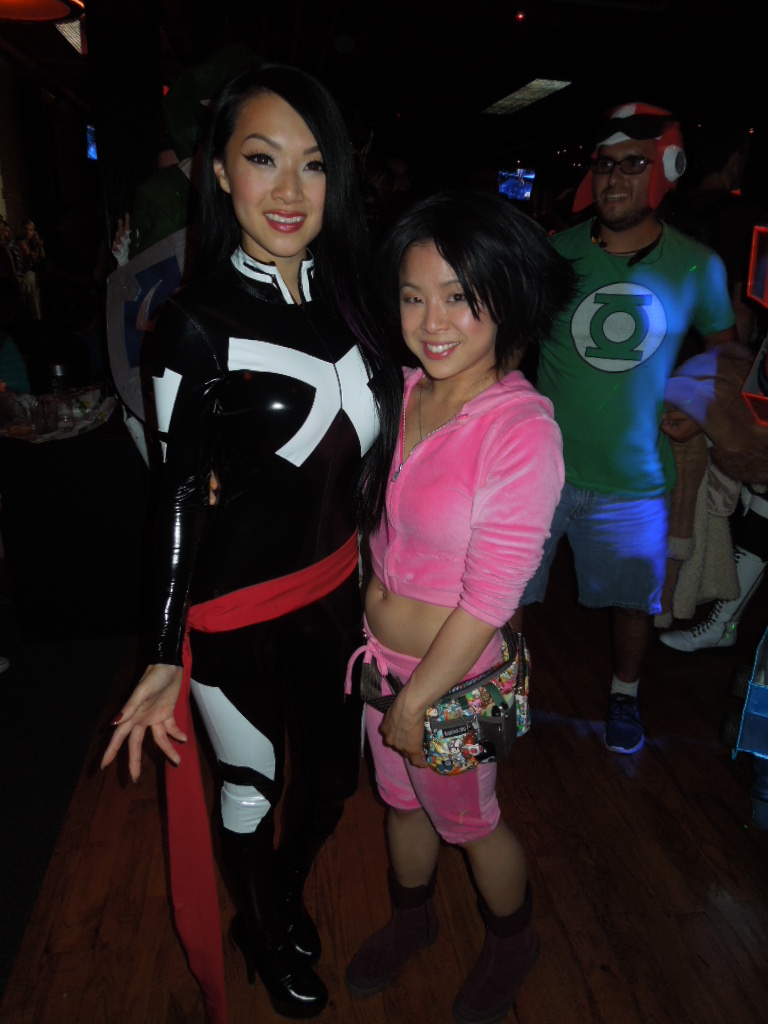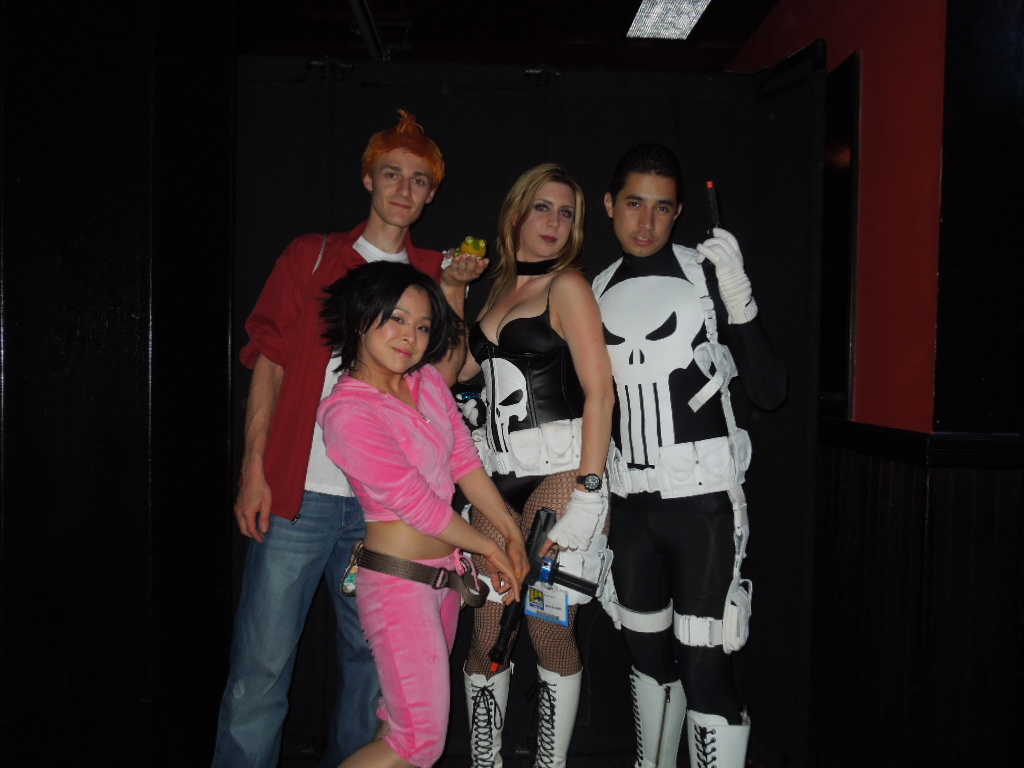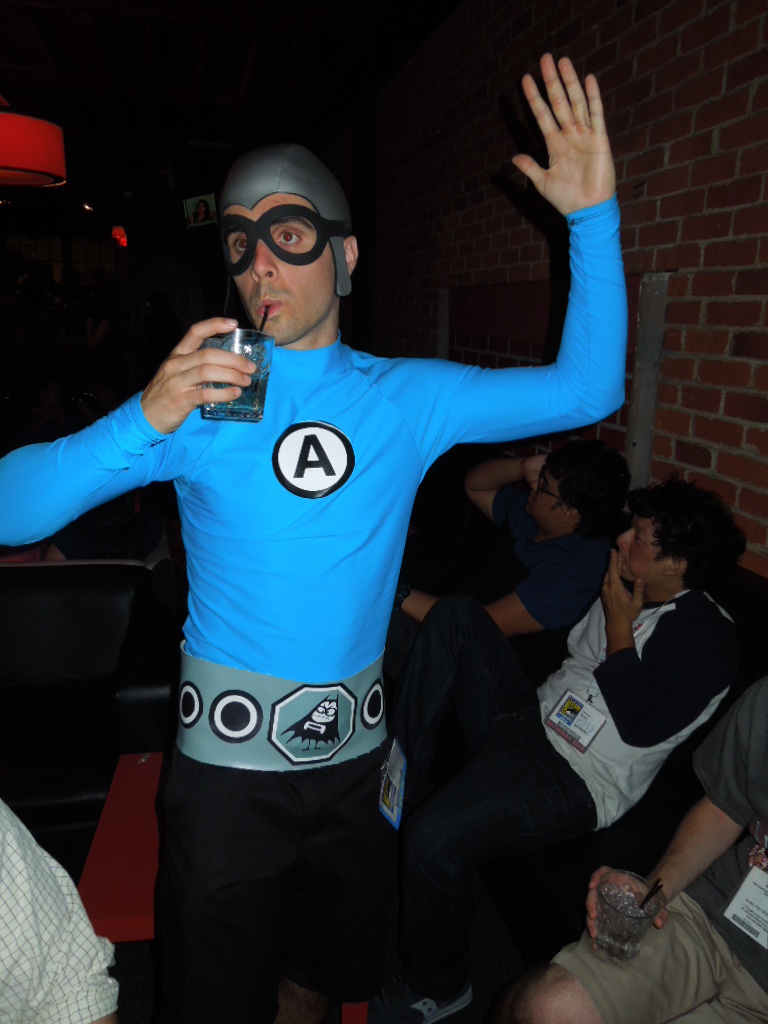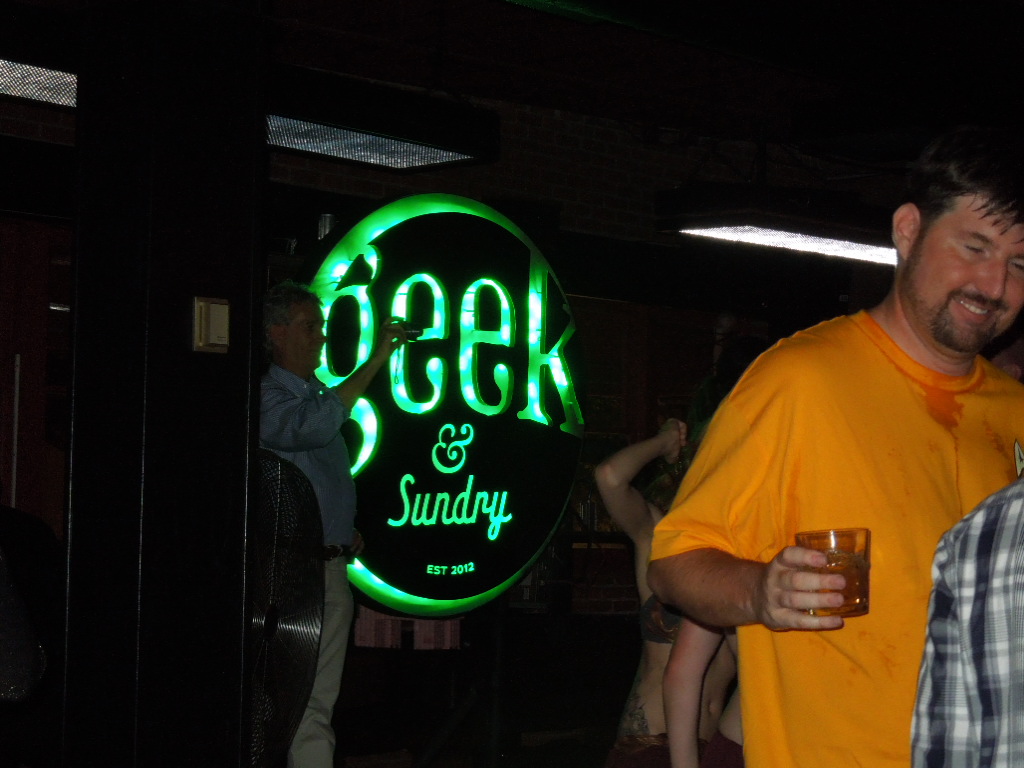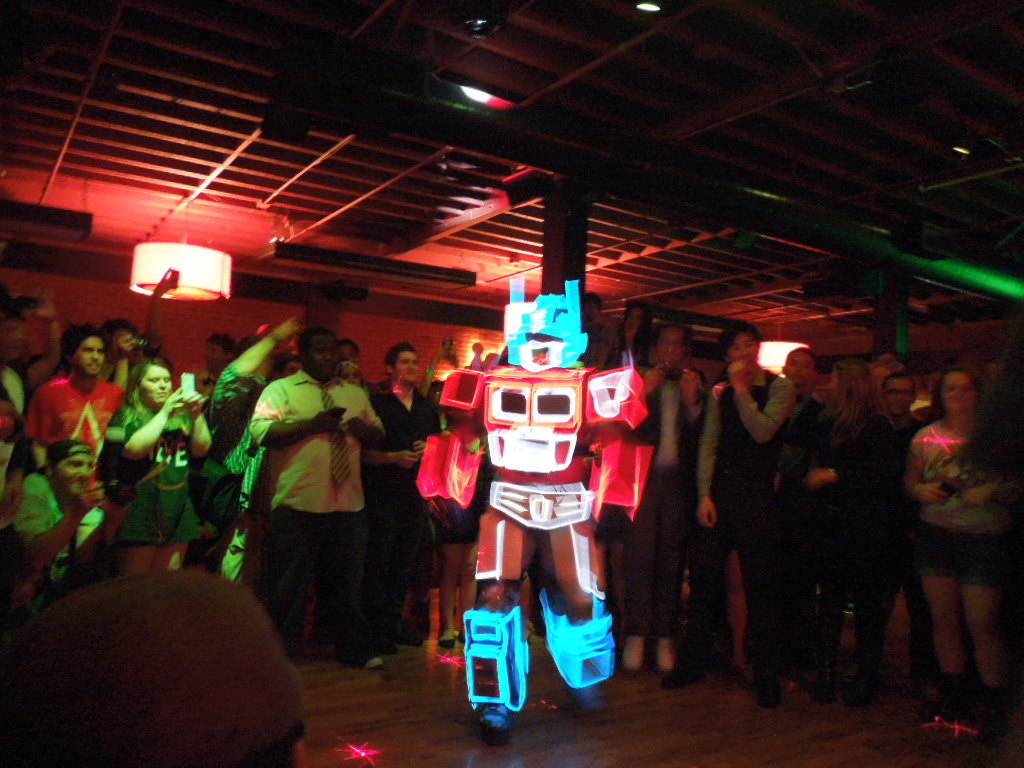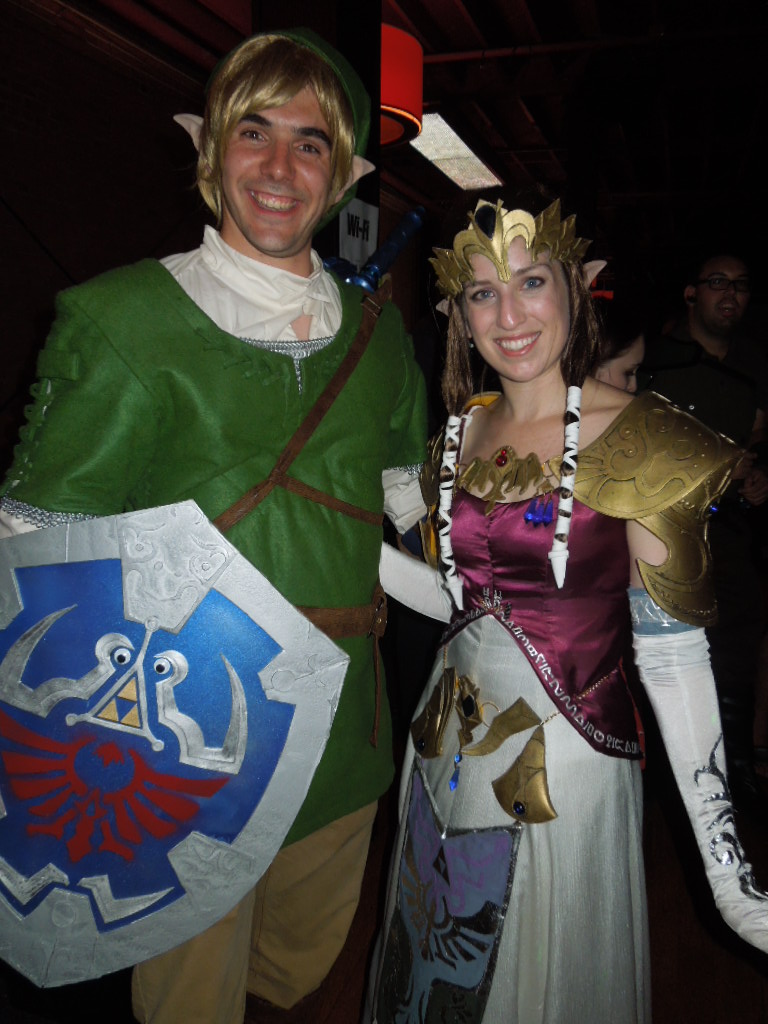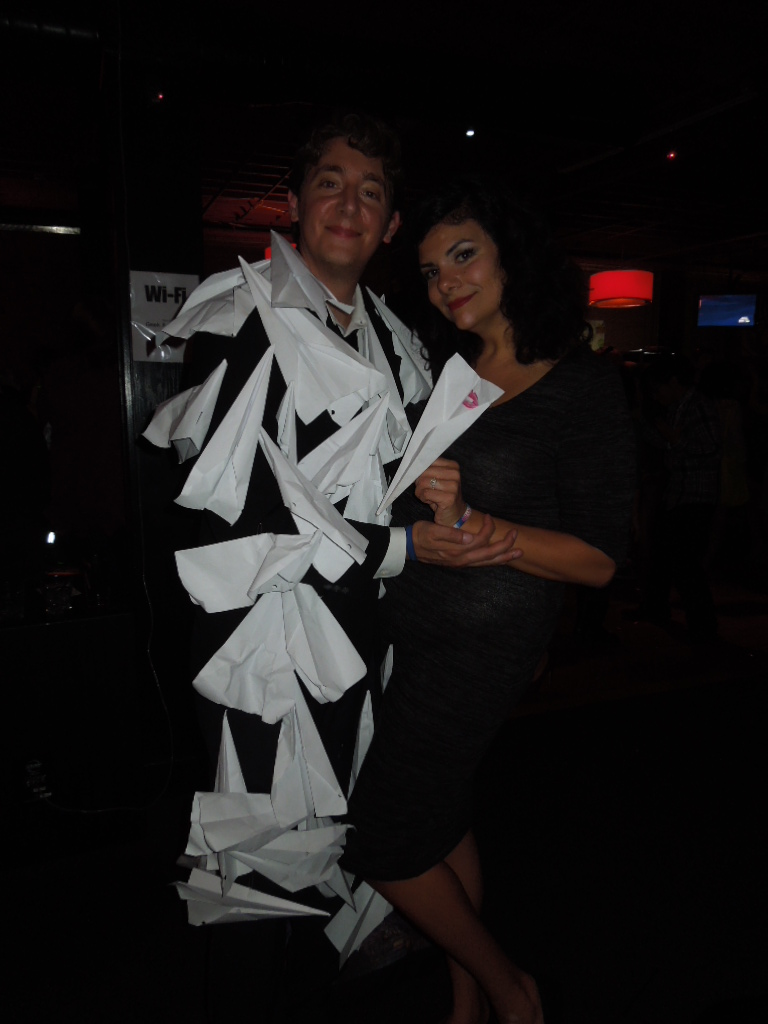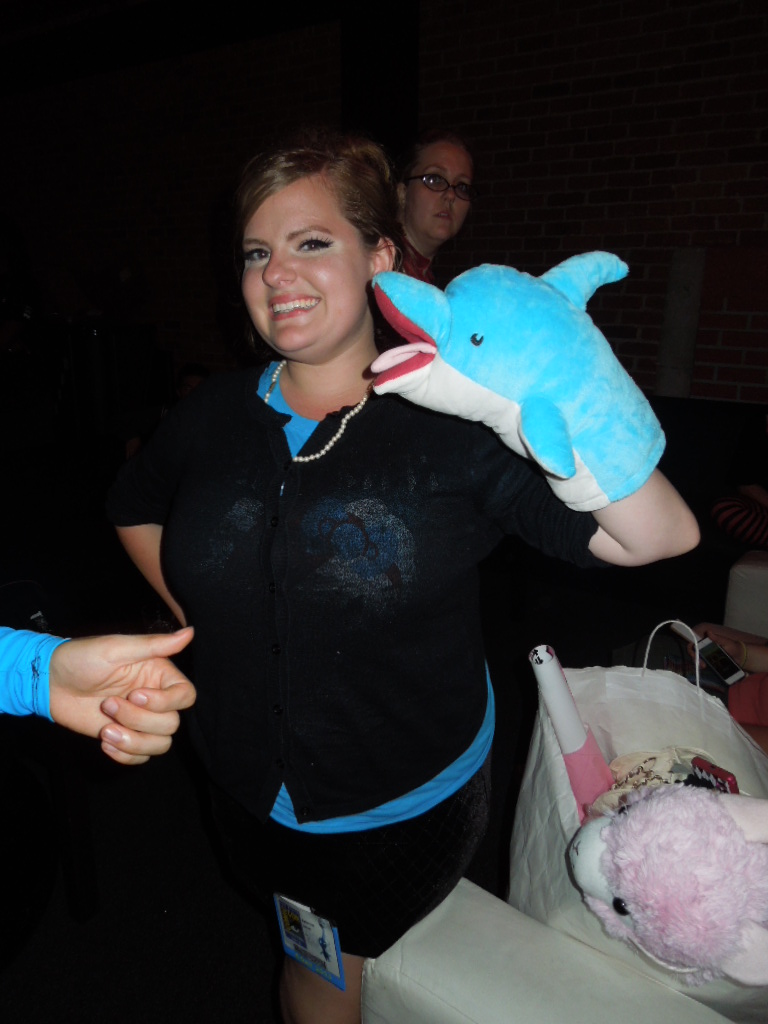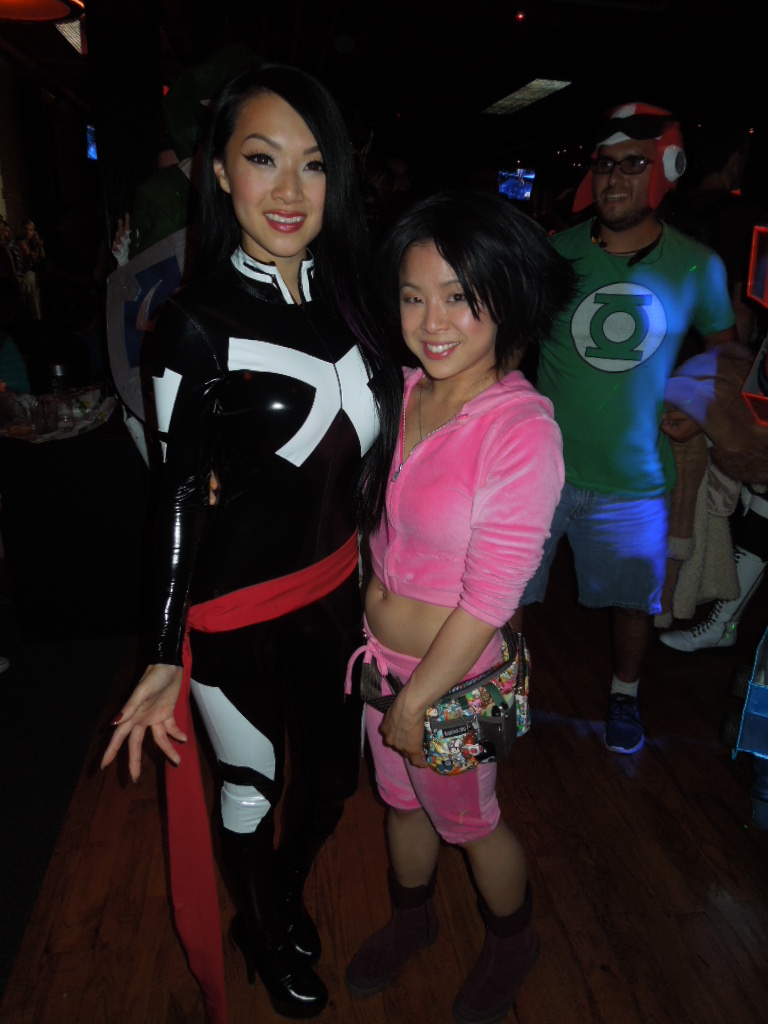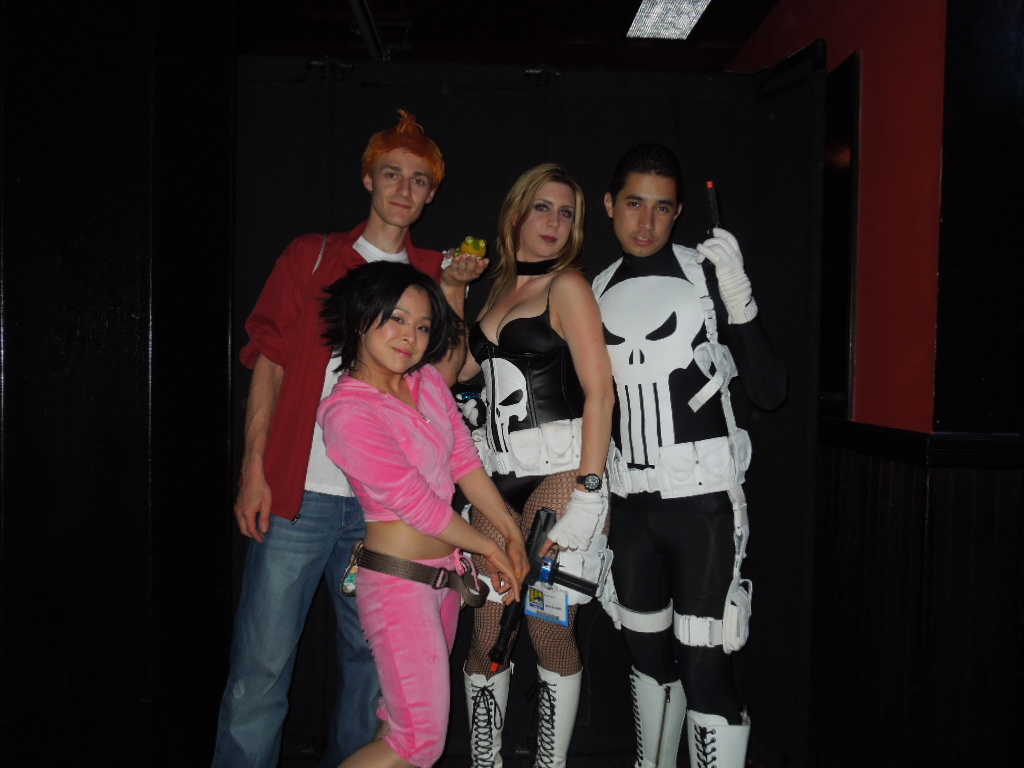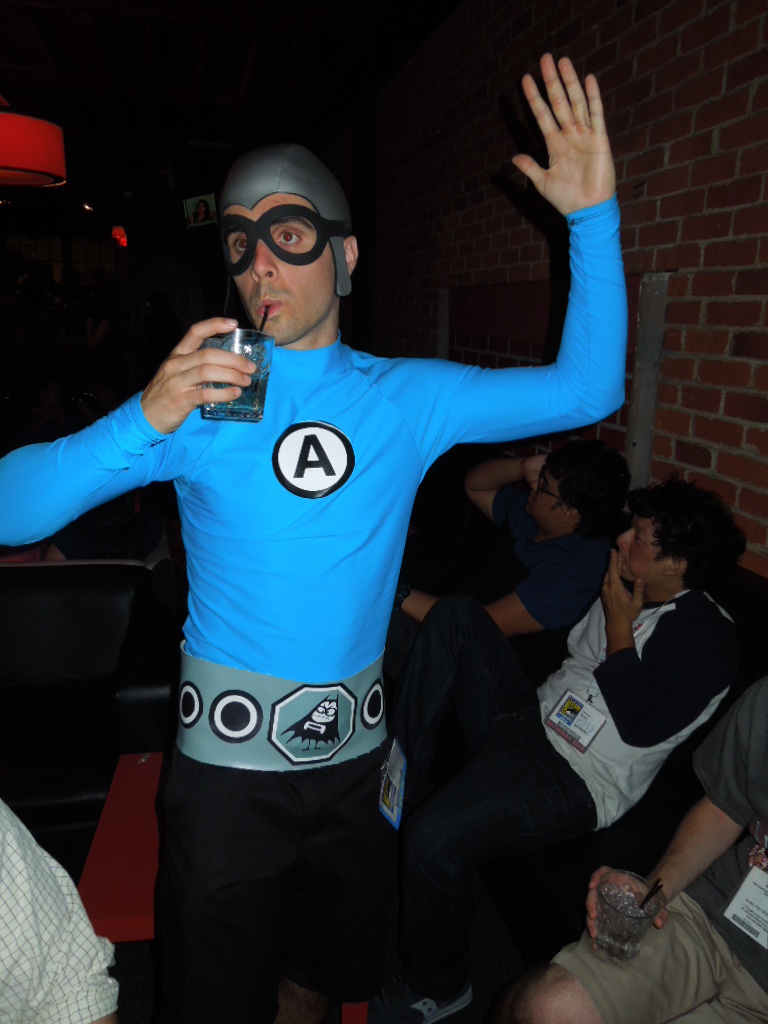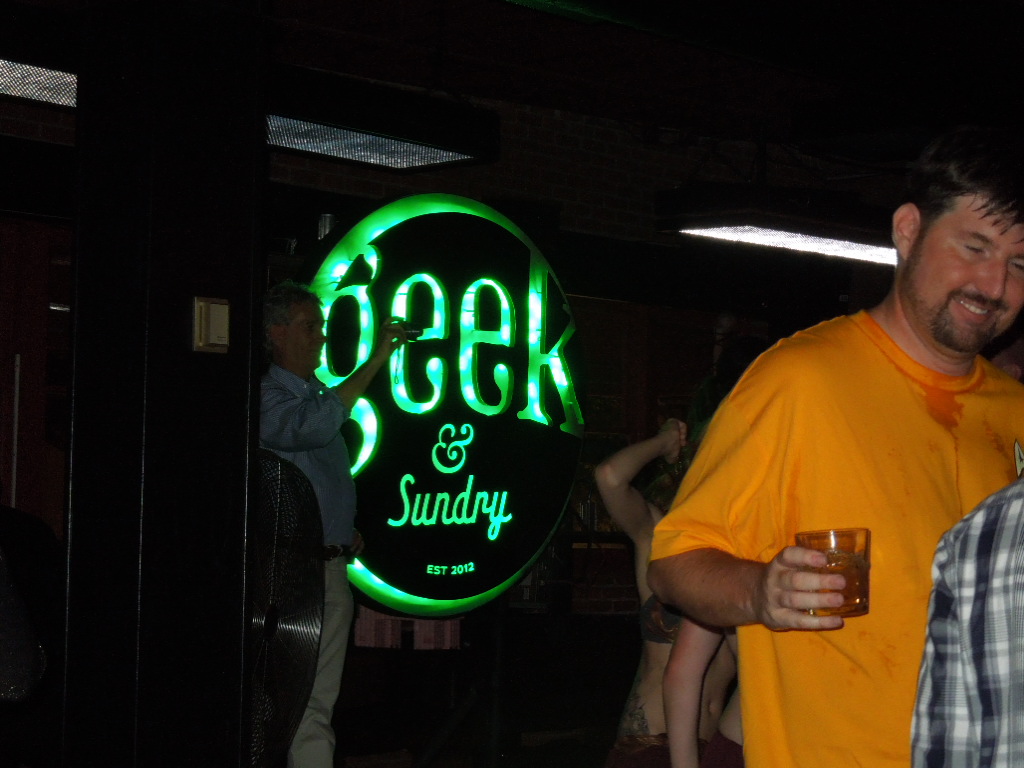 Possibly the most fun night I've had in a long time; I'm not much for clubbing these days but the music was great and catchy, and everyone was so fun!
Day 4, LAST DAY, Sunday
Our last day, in a nutshell:
Last minute shopping, check out independent artists and artists alley
Pack up!
Our last day was fairly slow; we took it easy and just wanted to enjoy the day without worrying about lines. We did run into this guy that made an amazing XBox Achievement board...
I managed to snag the Blue Fin Distribution SDCC exclusive, DBZ scouters, and took photos of more cosplayers around the convention. We checked out the Artist Alley and went to check out some of the other independent artists area as well, and picked up a few awesome prints we can't wait to put up. We missed most of the panels we wanted to attend that was in Hall H: Supernatural & Breaking Bad. We may have slept in...
SDCC was really great this year and while organization overall was improved, the lines got worse, but our time management was better as we had to make sacrifices and prioritize. Next year will be much better and we'll definitely make sure maximize our time to see as much of the SDCC events as possible!
Fingers crossed for SDCC 2014 tickets!